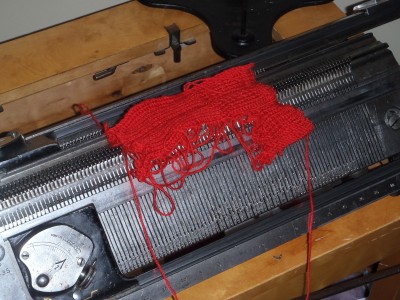 Någon kanske skulle kalla denna stickning för en katastrof, men det gör inte jag, jag kallar det framgång. Så här mycket har jag aldrig lyckats få Per Persson att sticka förut. Man får lov att tänka på hur maskinen såg ut när jag fick den, ingrott skit och allt helt orörligt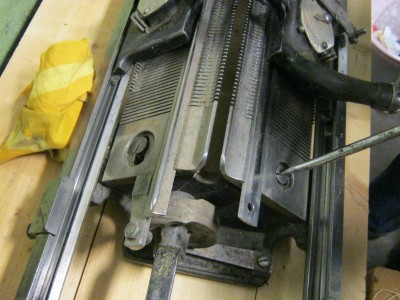 Vi har lång väg kvar, nålar går av nu – vet inte om det beror på utmattningar i nålarna (som ju är drygt 110år gamla) eller om det är skador i nålbädden som gör att nålarna kommer ur läge och skadas när nålföraren (däckeln) kommer farande. Oljningen är det inget fel på i alla fall, för jag använder rikligt (som det faktiskt står i bruksanvisningen). Trots det – jag är nöjd – det är ett FRAMSTEG.
Some might call this knitting for a disaster, but that not me, I call it success. I never managed to get Per Persson to knit this much before. You have to remember what the machine looked like when I got it, ingrained crap and everything completely immobile
We have a long way to go, needles breaks now – I do not know if it's because fatigue in the metal of the needles (which are just over 110år old) or if there is damage to the needle bed that makes the needles come out of alignment and get damage when the needle guide work the needles. The anointing is not faulty in anyway, because I use plenty (as it actually says in the manual). Despite that – I'm happy – it's a PROGRESS.